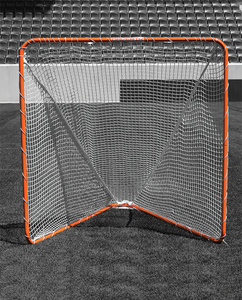 Maverik 6' x 6' Practice Goal Net
The perfect backyard goal that is durable and affordable. The 1.5" powder coated steel frame assembles easily with the use of push buttons. A strong 4mm white net and cord for stringing is included. This is a "must have" for the lacrosse player in your family!

Assembled Size: 6' X 6'
Shipping Size: 14" x 42 1/2" x 4 1/2"
NOTE: Due to product dimensions, shipping on this item is based on over-sized freight. Cost is approximately $50 to most Canadian and US destinations. Actual shipping charge will be confirmed at time of order.