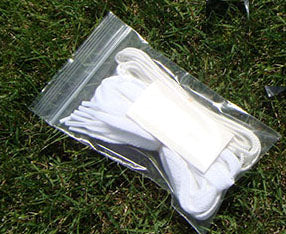 Jimalax Stringing Kit
So, you've grabbed your mesh from us (good move, by the way), and now you're looking for the stringing supplies to turn that mesh into a premier pocket. Fear not! The stringing kit has everything you'll need.

Player Kit includes:
1 - 12 foot long Sidewall Segment
3 - 33" Shooter Laces

Quality by Jimalax - 12 feet of sidewall string is enough to string up whatever kind of mesh pocket your heart desires (triangle topstring/Iroquois topstring/Chenango topstring/floating sidewalls... you name it, and there will be enough left over to install a nylon shooter, if that's your thing), and three laces lets you dial in your shooter setup however you want.