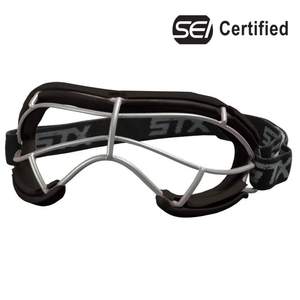 STX 4Sight+ S Women's Lacrosse Goggles - adult
The STX 4Sight + S adult lacrosse goggle is designed for the intermediate player to provide the required eye protection they need combined with features to increase comfort during play. The oval shape of the steel wire is designed to improve visibility. The pads are made using form fitting silicone that is comfortable for long hours of practice. The pads will not absorb sweat or moisture to make sure they don't become gross over time.
SEI Certified for the 2020 rule change. These goggles are sized for adults and are one size fits all. 
Key Features
Oval wire design enables superior visibility
Form-fitting silicone padding is easy to clean and does not absorb sweat or moisture, minimizing potential breakouts.
Meets ASTM F3077 requirements for women's lacrosse
SEI Certified
Specs
Positions: Attack, Midfield, Defense
Skill Level: Intermediate
Cage Material: Steel
Available colour: black