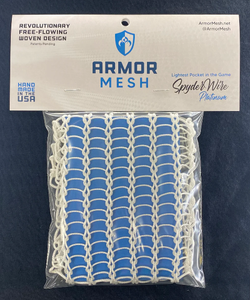 Armor Mesh Spyder Wire Platinum
ArmorMesh platinum has arrived!

This handmade, free-flowing woven design creates ultimate hold and ball control with the smoothest release. Complimenting the design is the thinnest, lightest, most durable material to be found. The ultra strength and waterproof properties lead to zero stretch or bagging-out in any weather. The dual sided option gives you the ability to add extra channel on the grooved side, or added grip and torque on the smooth side. Armor Mesh can be customized in any head and pocket placement.

Ultimate ball control and feel
Shockingly consistent, smooth release
Dual sided options:
- added channeling accuracy
- added grip and torque
100% waterproof
Zero bagging out
Strength 10X greater than steel yet it literally floats on water
Fully customizable for any head and pocket placement
Instant break in
Colour: white