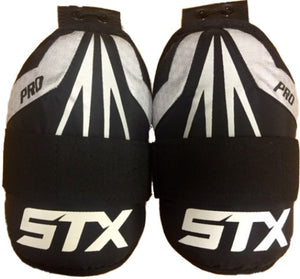 STX Pro Clash Bicep Pads
STX's Pro Clash Bicep Pads are the absolute "must-have" bicep protector for box lacrosse!  Maximum protection with great mobility.
This is the most important piece of equipment you need to protect you from cross-checks, slashes and pull-downs.
Ties directly onto any shoulder pad; instantly turns hockey shoulder pads into lacrosse shoulder pads.
Adjustable Velcro straps anchor the pads securely around the upper arm.
The hard plastic inserts are covered in shock-absorbing foam and comfortable outer layer materials.
Washable - hang to dry.
Sizes: Small, Medium and Large.