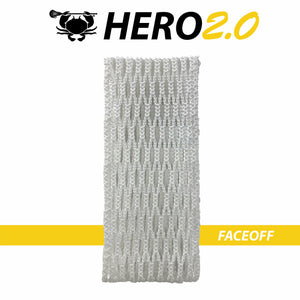 East Coast Dyes Hero 2.0 Mesh - Faceoff
Hero2.0 Faceoff is inspired by players seeking greatness. At the faceoff X, the smallest advantage can be the difference between a win and a loss. That's why we are introducing our FO Weave. It's designed to give you the increased movement, feel, and responsiveness you need to own the X.

Our FO Weave adds support to the outside of your pocket and thins out the channel to allow the pocket to move freely in and out while maintaining its structure. Combine that with our ZoneTech™ and you have a serious advantage.
Available in: white