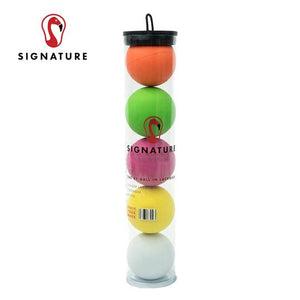 Tube of 5 Signature Premium Lacrosse Balls
Signature's got balls!
ENHANCED GRIP: Featuring TOUGH GRIP™ Technology, the revolutionary rubber formula creates a better feel and gives you more control rep after rep.

GUARANTEED PERFORMANCE: With zero-defect industry-leading manufacturing standards, SIGNATURE PREMIUMS last twice as long as normal lacrosse balls under any conditions, on any surface.

UNIVERSALLY TRUSTED: The SIGNATURE PREMIUM is the #1 ball in NCAA Lacrosse, The Official Ball of the Canadian Lacrosse Association, the NLL, and The Official Ball of the 2018 FIL World Championships.

Includes 5 SIGNATURE PREMIUM CLA-approved lacrosse balls in an SL clear tube - white, orange, pink, neon green and yellow.